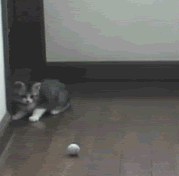 Glitter Graphics & Comments
I made a mistake tonight. I went back and read all of the entries on my old Alzheimer's blog. I thought I could do it, you know it's been a year. I thought I could step back and read it dispassionately. That's what I get for thinking. I bawled like a baby. Why did I do it, you might ask. I received an email from someone who had come across the blog and who was looking for some answers. She is now the caregiver for her mother. I said what I could, then went back and read the blog. Just shoot me now.
I spent most of the day culling my books. I have two built-in bookshelves which I obviously can't take with me, so I needed to get rid of some books. Four boxes and two bags later, I'm done. No, the Shalvis Shrine was not touched. There is only one thing that would make me touch that - if Mrs. Hugh Jackman were to come over and say "I'll give you my husband for your Jill Shalvis books" I might have to think about it - long and hard. I love you Jill ... Oh, and there were also all those books I brought back from RWA intending to give them away on the blog. Then I realized I didn't have the money for postage ...
Did you know Bubba farts when I pick him up? Why did I tell you that - because everyone should be warned.
No YouTube today - thought I'd spare you.
Have a great Monday everyone.